BESPOKE
PHOTO STAND-INS
Photo stand-ins are like face in hole boards but instead of face holes, there is a large aperture that displays the whole head and shoulders or entire upper body.
The result is that people look to have been 'edited in' to the frame – with the company's logo and branding all around them in glorious colour.
Photo stand-ins are a bit more like a photo booth – the number of people in the shot is not limited to the number of face holes. People can stand naturally behind the boards and don't have to manoeuvre their faces into holes at particular heights.

So, it's your call: would you like a photo stand-in or a classic face-in-the-hole board?
Photo Stand-ins Made to Measure
Each board is made bespoke for the customer. We can design it to have the aperture low down if the audience is expected to consist of mainly children, or higher up for adults.

An Ideal Marketing Tool
Photo stand-ins make a terrific marketing tool with your logo and message for people to take photos of and share on social media. The trick is to engage the public, and these boards are one of the best ways to do that. People can't seem to resist them.

Use Indoors and Out
Each board is made bespoke for the customer. We can design it to have the aperture low down if the audience is expected to consist of mainly children, or higher up for adults.

The print quality is the best available, due to our industry-leading large format printer. The inks we use have industry standard resistance to UV light and fading, meaning you can bring your board out again year after year looking like new. It is finished off with top-class cutting and laminating equipment for a highly professional look.

Christmas Photo Stand-ins
What will your photo board look like?
Think you could use a photo stand-in or face-in-the-hole board to promote your brand this year? Get in touch for more information and prices, and to talk to us about your idea. We'll design one for you if you are unable to provide us with a design, and work on it with you until you are sure that it's the perfect marketing tool for your brand, cause or message.

Don't forget to check out our other styles of marketing props as well, to help you decide which type you think will work best for your brand.

And of course we have the classic custom designed face-in-the-hole boards that can be anything you want. They can be any shape and size. We have seen some very clever and creative design ideas from our customers. What would yours look like?
Thank you very much for the great work you have done. I just wanted to send you some impressions of the CutOutWalls. Both of them were really much liked. Thank you very much again for all your work and help.
twitter.com/EmbassyMagazine
TALK TO US ABOUT YOUR NEEDS
Complete this form and well get in touch
Contact Form Photo Stand-Ins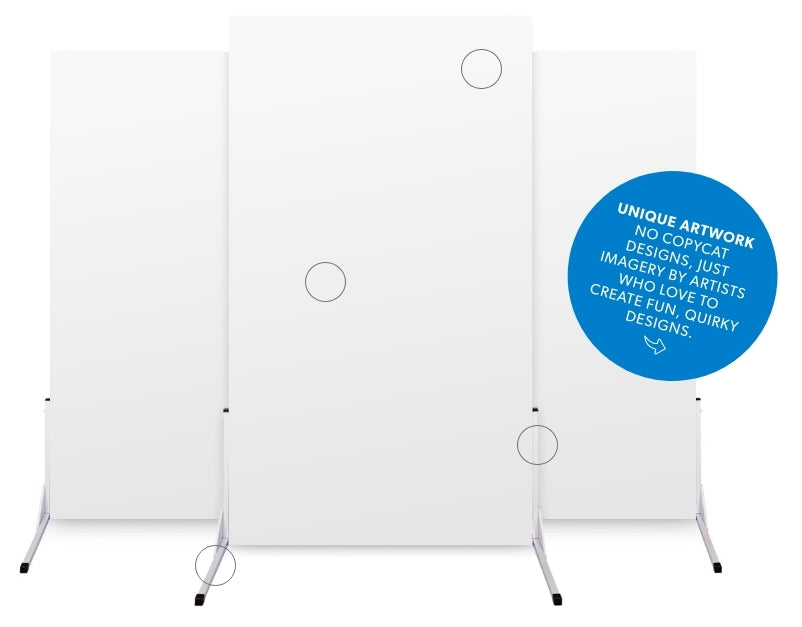 TOP QUALITY GUARANTEED
Our photo boards are designed for longevity
Our photo boards are meticulously crafted to provide long-lasting value, standing the test of time. Here's how we achieve durability:

Premium Materials: Constructed with high-quality, 10mm solid PVC board for exceptional strength and resilience.
Protective Laminate Print: Vibrant and high-quality vinyl print prevents fading from UV light and environmental factors.
Reinforced Frame: Lightweight aluminium frame offers portability without compromising structural integrity.
Weather-Resistant: Waterproof materials and sturdy, steel T-legs allow outdoor use, providing excellent stability, even in moderate wind conditions.
High-Quality Manufacturing: Industry-leading large format printers and cutting-edge laminating equipment ensure superior print quality and precise cutting.
Long-lasting Performance: Engineered to endure regular use while maintaining visual appeal and functionality, providing lasting value for events and audience engagement.
VIEW OUR FAQS
Multicolumn
CHOOSE & PURCHASE

Order online or contact us for a bespoke design

FINALISE DESIGN

Our design team will contact you about any customisation requests

WE'LL DELIVER YOUR BOARD

Quick and reliable delivery by our own staff or by courier

SET UP & SNAP AWAY

Dive effortlessly into a world of fun-filled photo opportunities

LEAVE US A REVIEW

Share your experience & photos. We love seeing our products in action!
SIGNUP TO OUR NEWSLETTER
Get all the latest news, offers and updates to your inbox