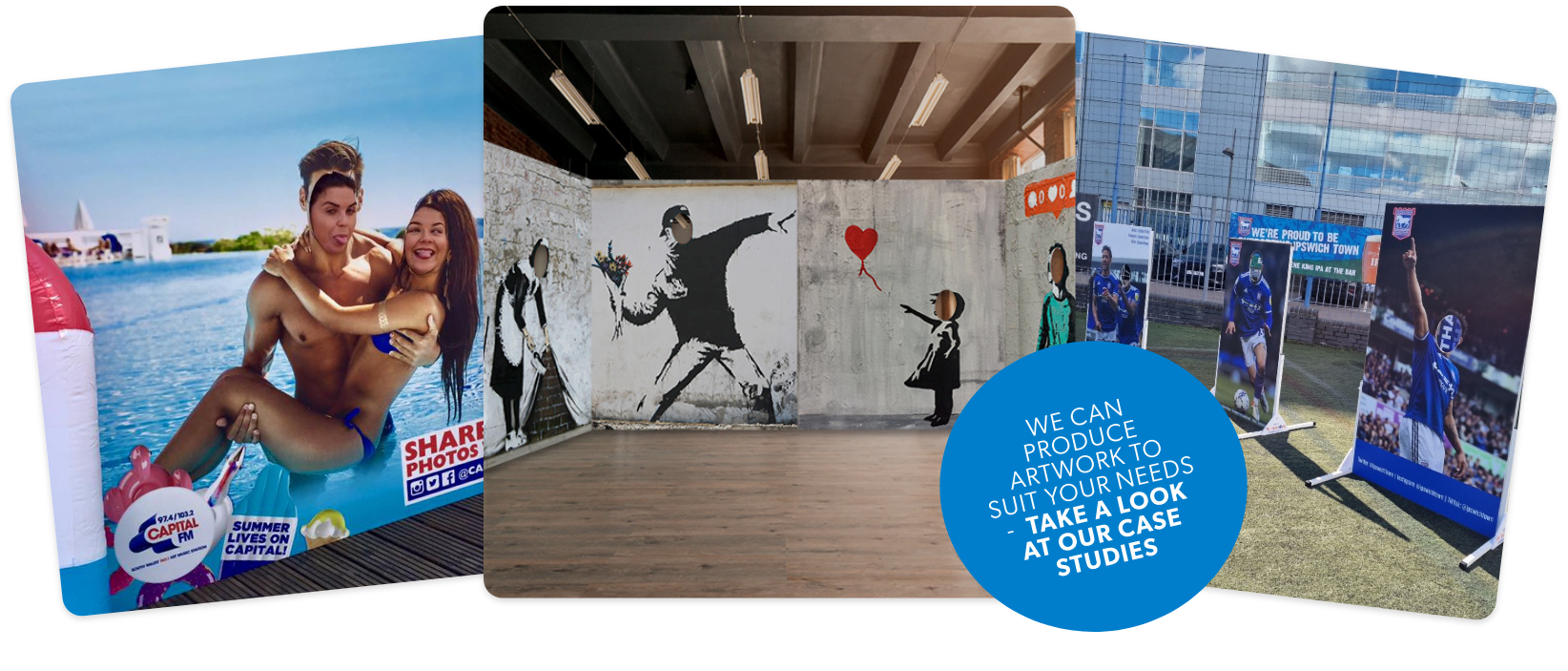 CUSTOMER SERVICE
ABOUT US
Large Format Print Specialists
At Photo Cutouts we are large format print specialists. We create themed and bespoke photo boards, including face-in-the-hole boards, photo walls, photo stand-ins and selfie frames. Brands use our boards to strengthen their marketing presence, charities love them for campaigns and roadshows, and events use them to enhance their image and spread news of the event.
We are a UK based business and our main client base are event companies, advertising agencies, leisure hire businesses, schools, tourist attractions and anyone else in the business of fun!
Born from great childhood memories of holidays by the coast and influenced by the number of great beaches and themed props we have in our local area. Our popular seaside range of Photo Cutouts focuses on the traditional pier pastime of face in the hole boards.
After the success of the seaside range we have developed a wide range of themed photo boards, including wedding themed and seasonal Christmas, Easter and Halloween themed photo boards. These are available to hire or buy and can be branded with your logo and hashtags to create a memorable photo opportunity for guests.
We also have a team of fabulous artists and designers who can produce unique artwork in a number of themes and styles to suit our client requirements.
For examples of the work that we have done in the past, creating bespoke photo boards for a range of purposes, take a look at our Case Studies.
As large format print specialists, we have developed our range of products to include giant cards, ideal for making a BIG occasion of those special events, available in sizes up to 5ft! Choose from our range of stock designs or create your own with one of our photo upload templates.
In light of Covid-19, we have also adapted our freestanding photo board design to create a series of hand sanitiser stations. Our hand sanitiser stations are high quality and freestanding, designed for high footfall areas. Our designers are happy to assist in creating a bespoke design for your business or event, adding your logo and making colour changes to suit your branding. Take a look at the sizes and designs that we have to offer or get in touch to create a custom sanitiser station.
We have grown into a leisure company that operates on several fronts, with quite a range of products and services. Check out our other brands below!
AFTER SOMETHING MORE BESPOKE?
We can create a bespoke face in the hole board that is designed and manufactured to your liking
GET IN TOUCH WITH US
SIGNUP TO OUR NEWSLETTER
Get all the latest news, offers and updates to your inbox