BESPOKE
FOLDING CUTOUT DESIGN
Our new space saving photo cutout board design folds in half for ease of transportation and storage
Space saving photo cutout board
Save space! Our new photo cutout board design folds up so you can easily carry it around or put it in the back of a car. And when it's not needed it can be stored in half the space needed for a full size standee board.

The clever design means our folding peep board is just as rigid as our one-piece board. And our folding boards can be flat packed just like one-piece boards for convenient shipping to you.

So if you think you'll need to carry your board around or transport it in a vehicle, a folding board might be the way to go. Because of the extra work involved they do cost a little more, but if it's convenience or compact storage you're after then they are an option worth considering.

The folding face-in-the-hole boards have a lightweight aluminium frame just like all the ones we make, but the boards are still sturdy and setting the photo cutouts up is just as easy at venues.Whichever type of board you choose, why not complement it with a custom marketing prop or a set of speech bubbles? We make those too!
Thank you very much for the great work you have done. I just wanted to send you some impressions of the CutOutWalls. Both of them were really much liked. Thank you very much again for all your work and help.
twitter.com/EmbassyMagazine
TALK TO US ABOUT YOUR NEEDS
Complete this form and well get in touch
Contact Form Folding Photo Boards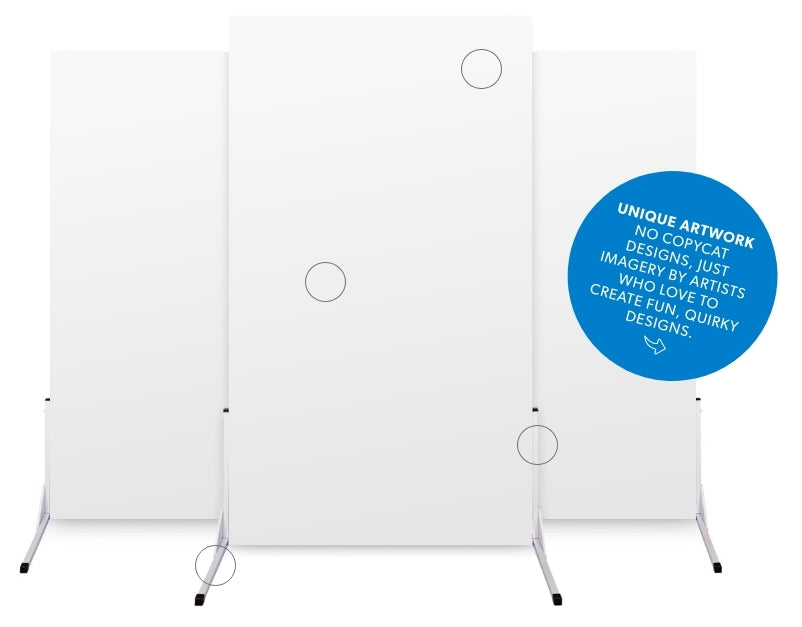 TOP QUALITY GUARANTEED
Our photo boards are designed for longevity
Our photo boards are meticulously crafted to provide long-lasting value, standing the test of time. Here's how we achieve durability:

Premium Materials: Constructed with high-quality, 10mm solid PVC board for exceptional strength and resilience.
Protective Laminate Print: Vibrant and high-quality vinyl print prevents fading from UV light and environmental factors.
Reinforced Frame: Lightweight aluminium frame offers portability without compromising structural integrity.
Weather-Resistant: Waterproof materials and sturdy, steel T-legs allow outdoor use, providing excellent stability, even in moderate wind conditions.
High-Quality Manufacturing: Industry-leading large format printers and cutting-edge laminating equipment ensure superior print quality and precise cutting.
Long-lasting Performance: Engineered to endure regular use while maintaining visual appeal and functionality, providing lasting value for events and audience engagement.
VIEW OUR FAQS
Multicolumn
CHOOSE & PURCHASE

Order online or contact us for a bespoke design

FINALISE DESIGN

Our design team will contact you about any customisation requests

WE'LL DELIVER YOUR BOARD

Quick and reliable delivery by our own staff or by courier

SET UP & SNAP AWAY

Dive effortlessly into a world of fun-filled photo opportunities

LEAVE US A REVIEW

Share your experience & photos. We love seeing our products in action!
SIGNUP TO OUR NEWSLETTER
Get all the latest news, offers and updates to your inbox