BESPOKE
SELFIE BOARDS
Put yourself in the picture!
Our handheld Selfie Boards let you bring the fun of our popular Photo Cutout boards to an even wider range of events.
Selfie Boards are an innovative new product from Photo Cutouts. Following a customer request, we created handheld boards that can be passed around at events and are much more mobile than static standing boards with feet. Customers' needs can vary depending on the type of event and the other marketing props they are using, so sometimes photo boards you can walk around with are desirable. So, introducing the Selfie Board!

The standard size for a Selfie Board is 100cm x 80cm which is light and easy to carry around. They have two handles on the back to help maintain the face-in-the-hole illusion (it's best not to have the holder's hands showing at the sides.) Everything else is just like a regular photo cutout board but without the metal feet. They can be portrait or landscape, with one or two face holes (three would be a squeeze).

Selfie boards are custom made to your requirements, with image, logos, hashtags, web addresses, and messages all controlled by you. Alternatively our in-house designers can design the boards for you from start to finish. The material used is lightweight, waterproof PVC foam and the boards are framed for rigidity.
Education technology company NowPressPlay are using this selfie board to promote their product.
Heating company Vaillant used this board at the launch of their in-house magazine, Advance.
Amex used this board at an expo to enable delegates to 'become' their Global Business Travel program superhero.
Thank you very much for the great work you have done. I just wanted to send you some impressions of the CutOutWalls. Both of them were really much liked. Thank you very much again for all your work and help.
twitter.com/EmbassyMagazine
TALK TO US ABOUT YOUR NEEDS
Complete this form and well get in touch
Contact Form Selfie Boards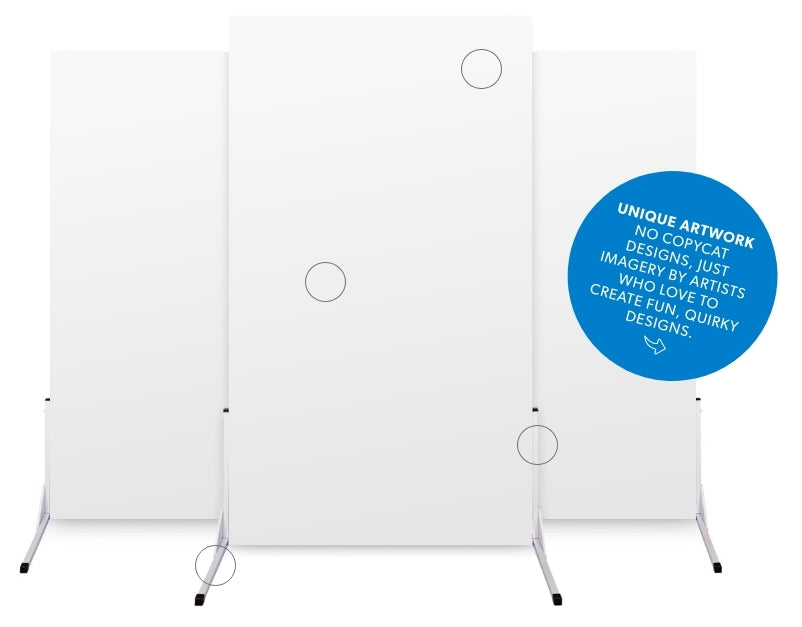 TOP QUALITY GUARANTEED
Our photo boards are designed for longevity
Our photo boards are meticulously crafted to provide long-lasting value, standing the test of time. Here's how we achieve durability:

Premium Materials: Constructed with high-quality, 10mm solid PVC board for exceptional strength and resilience.
Protective Laminate Print: Vibrant and high-quality vinyl print prevents fading from UV light and environmental factors.
Reinforced Frame: Lightweight aluminium frame offers portability without compromising structural integrity.
Weather-Resistant: Waterproof materials and sturdy, steel T-legs allow outdoor use, providing excellent stability, even in moderate wind conditions.
High-Quality Manufacturing: Industry-leading large format printers and cutting-edge laminating equipment ensure superior print quality and precise cutting.
Long-lasting Performance: Engineered to endure regular use while maintaining visual appeal and functionality, providing lasting value for events and audience engagement.
VIEW OUR FAQS
Multicolumn
CHOOSE & PURCHASE

Order online or contact us for a bespoke design

FINALISE DESIGN

Our design team will contact you about any customisation requests

WE'LL DELIVER YOUR BOARD

Quick and reliable delivery by our own staff or by courier

SET UP & SNAP AWAY

Dive effortlessly into a world of fun-filled photo opportunities

LEAVE US A REVIEW

Share your experience & photos. We love seeing our products in action!
SIGNUP TO OUR NEWSLETTER
Get all the latest news, offers and updates to your inbox